What To Do

The first thing to do is to make contact. with your request and declare your intention to get married or indicate the type, date and location of the ceremony you would like. You can also send me an instant message to chat if available or use the Quick Contact Form. As a registered Civil Marriage Celebrant I will reply with full instructions about how to proceed.
More information may be found on my ceremonies by selecting the type of Ceremony you require;
Also – If getting married, download or click on the link below for more information on the Notice of Intended Marriage (NOIM); if you like you can complete the relevant details and submit or bring it to me at our first meeting? You can also scan and upload, email, fax or post it. The necessary documents will need to be sighted at some stage prior to the ceremony.
Notice of Intended Marriage Form
For more information and lodgement options please visit
Notice of Intended Marriage
This Notice of Intended Marriage must be submitted to your celebrant at least one month before the wedding can take place. Once completed and signed it is valid for 18 months. Download my Steps to Marriage checklist below which contains all the information to assist you in preparing for the big day.
If you are overseas, further information on getting married in Australia can be found on my information for overseas couples wishing to get married in Australia page Overseas Couples.
📅 Availability
It is best to get the ball rolling now as I take bookings many months in advance, please view . You must be sure you have all of the necessary requirements in place in time. I will inform you of any other requirements when we correspond.
If you would like to request a meeting to catch up and discuss your ceremony you can use my meeting request form to select a convenient date, time and place.
📸 Photography & 📹 Video
It is best to plan early so that the period near to your ceremony is relaxing. Please consider photography carefully as it is usually a one time moment . After the event, the pictures will be your precious memories. See the Links & Partners page for some ideas and many quality suppliers.
⛪ Venues for your Ceremony
Choosing your venue can be a daunting task, for a start where do you want to have it, in your hometown, out of town? A function room in a hotel, at home, a marquee, a restaurant, a resort, on Sydney harbour or maybe water views?
Eloping? Why pay more and get married in the registry office? Perhaps you would like to say what we need to and simply sign the paperwork? No frills, no fuss, just the legal essentials for marriage. You may pay less and the wedding ceremony can be anywhere you wish! Click on the button below to visit my Venue Tips page which has some ideas, locations and other information to consider when narrowing down your venue or ceremony location. Always remember the safest thing anyone can do is check twice do it once!
📜 Your Ceremony
A sample basic ceremony format may be found by clicking on the button below. This ceremony or any others can be personalised along with readings and music added to suit you.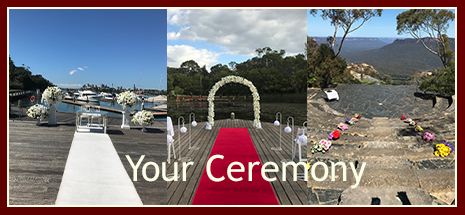 On confirming your booking you will be provided with a login to the client resources area and have access to all the resources and sample ceremony material to assist you in personalising and tailoring your ceremony as much as you like. Everyone is different and I try and provide ceremony options and elements that allows you to create a ceremony that truly reflects you. This has sample ceremonies, vows, readings and much more. This includes the legal parts that must be contained in the ceremony (for a marriage ceremony) and the parts that can be tailored to personalise the ceremony to suit.
Payment Information
Bookings for all ceremonies are confirmed on a deposit of $100.00, the balance can be paid any time prior to the ceremony. For more information on payments or to make a payment please visit the Payments page.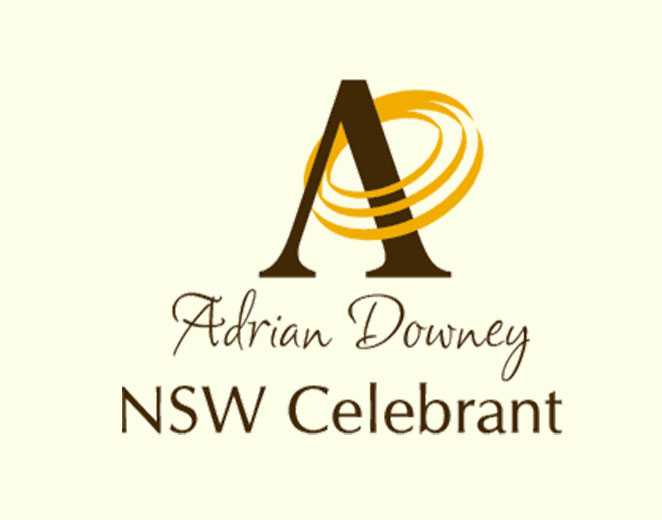 Visit the Resources page for some assistance and advice on putting your ceremony together and also for some information on after the ceremony.
General Information & Requirements
Please find my PDF fact sheets below containing all the information (Select the type of ceremony):
More information may be found on my ceremonies by selecting the type of Ceremony you require;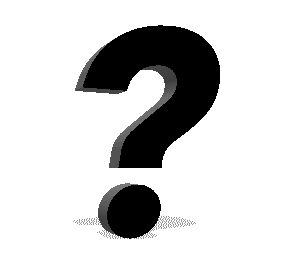 Questions❓ The answers to many common questions may be found on the FAQ's page.
Forms
You can Upload a File, arrange a meeting to have a chat about your ceremony at a date, time and place convenient, make a payment, submit your notice of intended marriage details or make a booking using the forms below.
Contact Me
Please select one of the contact options below and let's get in touch.
"For a ceremony that truly reflects you"
Need a NSW Justice of the Peace (J.P)?
Find one here. Just enter your postcode to search your local area. JP Search

My Guestbook
My Calendar