Couples from Overseas
Sydney NSW Weather
Many couples come to Australia from overseas to marry here in Australia, a great climate and what a wonderful way to get married. Perhaps you wish to elope, a wedding whilst on a holiday, marrying in Sydney's beautiful Royal Botanic Gardens, on our lovely beaches or surrounding harbour parks, at your Sydney hotel, cruising on Sydney Harbour, out in the Blue Mountains and beyond. Even if you are already married it is also a great place to renew your vows.
I marry couples from all around the world, such as UK, Europe, South Africa, China, Vietnam, India, Asia, USA, New Zealand, South America and Japan to name a few, and am able to assist in organising everything for you – the legal paperwork and your personally written ceremony. Other wedding and event suppliers may be found on my Links & Partners page. Please feel free to email your requirements and I will try and put you in touch with other quality local wedding and event suppliers that can assist you.
Are you in the process of immigration?
Letter for Immigration: If either of you are in the process of coming to Australia to be married on a Fiancé or Spouse Visa, then I am able to provide the necessary letter for Immigration. In order for this you must have completed and forwarded the Notice of Intended Marriage form to me along with payment of the lodgement / deposit.
Notice of Intended Marriage Form
For more information and lodgement options please visit Notice of Intended Marriage
I can accept the Notice of Intended Marriage form as long as at least one of the parties to the marriage has signed it if the signature of the other party cannot be conveniently obtained.
More information available from the Department of Home Affairs.
What to Do
First thing to do is to make contact and Contact Me with your request and declare your intention to get married or indicate the type, date and location of the ceremony you would like. You can also send me an instant message to chat if available or use the Quick Contact Form. As a registered Civil Marriage Celebrant I will reply with full instructions about how to proceed.
If getting married, download and print the Notice of Intended Marriage form; fill in all relevant spaces on page 3 and follow the directions on page 4 regarding signing the form if overseas. You can scan and email, fax or post it. The necessary documents will need to be sighted at some stage prior to the ceremony.
This Notice of Intended Marriage must be submitted to your celebrant at least one month before the wedding can take place. Once completed and signed it is valid for up to 18 months.
It is best to get the ball rolling now as I take bookings many months in advance, please view . You must be sure you have all of the necessary requirements in place in time. For example you will need an original birth certificate and / or an overseas passport. Some documents can take some time to get if you haven't got them already. I will inform you of any other requirements when we correspond.
What are the Legal Requirements?
▷ You must both be over the age of 18 years
▷ The Notice of Intended Marriage Form must be completed and lodged NO LESS than one calendar month prior to the marriage and sent to the celebrant.
▷ If you were born outside Australia, you must show an overseas passport or a birth certificate (translated into English if required) to the celebrant. If you were born in Australia you must also produce a birth certificate or a passport.
▷ If you have been married previously, you need to provide a certified copy of your Divorce Certificate or Death Certificate of former spouse (if applicable).
▷ You will need to have 2 witnesses to attend your ceremony – They can be any two people, they must be over eighteen, able to read and understand English.
▷ You do not have to be in Australia for any specific period of time prior to your marriage ceremony, providing of course that the required paperwork has been correctly completed prior to your arrival.
📜 Your Ceremony
A sample basic ceremony format may be found by clicking on the button below. This ceremony or any others can be personalised along with readings and music added to suit you.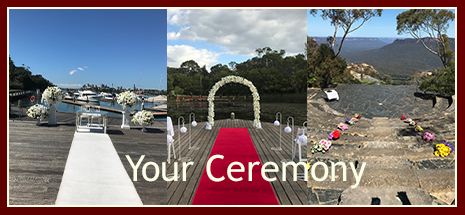 On confirming your booking you will be provided with a login to the client resources area and have access to all the resources and sample ceremony material to assist you in personalising and tailoring your ceremony as much as you like. Everyone is different and I try and provide ceremony options and elements that allows you to create a ceremony that truly reflects you. This has sample ceremonies, vows, readings and much more. This includes the legal parts that must be contained in the ceremony and the parts that can be tailored to personalise the ceremony to suit.
Venues for your Ceremony
Choosing your venue can be a daunting task, for a start where do you want to have it, in your hometown, out of town? A function room in a hotel, at home, a marquee, a restaurant, a resort, on Sydney harbour or maybe water views?
Eloping? Why pay more and get married in the registry office? Perhaps you would like to say what we need to and simply sign the paperwork? No frills, no fuss, just the legal essentials for marriage. You may pay less and the wedding ceremony can be anywhere you wish! Click on the button below to visit my Venue Tips page which has some ideas, locations and other information to consider when narrowing down your venue or ceremony location. Always remember the safest thing anyone can do is check twice do it once!
After your wedding ceremony
As an online marriage celebrant with Births, Deaths and Marriages (NSW) I will register your marriage with NSW Births, Deaths and Marriages on the day of or the day after your wedding. You can apply online for a NSW Births, Deaths & Marriages certificate here. You may also visit my Information page for more information on certificates and the following links may be useful, After the Wedding and Next Step name and address change kits.
Couples from overseas countries, who marry in Australia may require an Authentication or an Apostille Stamp to be placed on the registered copy of their Marriage Certificate issued by Births, Deaths & Marriages. To determine if you require an Apostille or Authentication stamp follow the link to Smartraveller or the Department of Foreign Affairs & Trade . Certain countries require this before they recognise an Australian marriage certificate as a legal document.
Payment Information
If you would like to know more about payment options, or to make a payment to Adrian by PayPal or credit card please visit the Payments page.
What Now?
Should all of this strike a chord with you and you would like to know the best way to start preparing for your ceremony in Australia, then you are welcome to Contact Me, send an instant message to chat if available or use my Quick Contact Form. Provide a few details about your ceremony and I can arrange an online chat using Skype or Zoom as most of the initial work can be done by e-mail.
You can view My calendar to check your proposed ceremony date, along with the Links & Partners page for more quality suppliers and services.
Fact Sheet
Please find my information and fact sheet for overseas couples below containing all the information for the type of ceremony: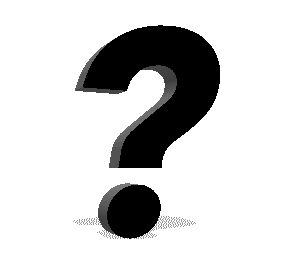 Questions❓ The answers to many common questions may be found on the FAQ's page.
Forms
You can Upload a File, arrange a meeting to have a chat about your ceremony at a date, time and place convenient, make a payment, submit your notice of intended marriage details or make a booking using the forms below.
"For a ceremony that truly reflects you"
My Guestbook
My Calendar